How to whip cream | Whipped Cream
Whipped cream needs no introduction. The fluffy, smooth cream takes desserts to a whole other level! Whipped cream is cream that has been beaten by a mixer, whisk, or fork until it is light and fluffy. Whipped cream is often sweetened and sometimes flavored with vanilla, in which case it may be called Chantilly cream.
Wikipedia –
Cream containing 30% or more butterfat can be mixed with air, and the resulting colloid is roughly double the volume of the original cream as air bubbles are captured into a network of fat droplets. If, however, the whipping is continued, the fat droplets will stick together destroying the colloid and forming butter; the remaining liquid is buttermilk.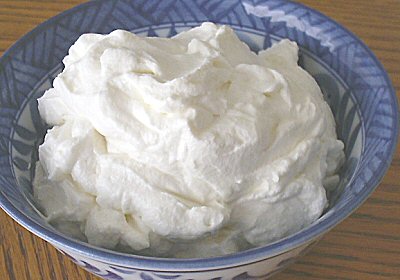 Its a breeze if you have an electric hand mixer with a whisk attachment. However, it can absolutely be done with a manual balloon whisk too. It just takes longer, that's all! 🙂
How to whip cream | Whipped Cream
You'll need-
Heavy Whipping Cream
Wire Whisk
Ice cubes (if the temperature is hot)
Method-
Chill the bowl, whisk (if using electric whisk, the whisk attachment) and the cream for at least 30 minutes
Pour the cream into the mixing bowl and start beating it in circular motion with a wire whisk. If using electric whipper, rotate in circular motion


It takes a good 10 minutes with manual whisk and about 4-5 minutes with an electric one.
Depending upon what form you need, you stop whisking. Usually, you look for "Stiff peaks" to form.

Notes-
1. Light and foamy is best for topping cakes and desserts as an accompaniment; stiff and firm is best to use as a cake frosting or to make mousse
2. You get Whipped Cream powders in the market which are an excellent substitute to actual whipping cream. You just have to add cold water and whisk in the same way. Its much cheaper and tastes exactly the same! I use them to frost cakes!
(image source: internet)
all pics have been borrowed form the internet! sorry I forgot the links!!