Tteokkochi: Korean Street Food Skewers That Are Spicy, Crunchy, Delicious & Vegan-Friendly
Korean cuisine is known for its bold flavors and unique dishes, and one of the most popular street foods is Tteokkochi. Also known as spicy rice cake skewers, this is a must-try dish for anyone who loves spicy and savory flavors.
I've been obsessed with Korean flavors for the past year now, since I got my hands on some rice cakes and gochujang, and made this banger skewer. Since I've tried Gochujang, I must admit, there's nearly no other Asian condiment that I love as much as I do gochujang. And in case you're new here, you already know how much I love rice, and I feel the same way about rice cakes. Bringing these ingredients together in this Korean Street Food Skewers recipe was, forgive me for the overuse of this phrase, a match made in heaven!
What is Tteokkochi?
Tteokkochi is a Korean street food dish made from cylindrical rice cakes called Tteok. These rice cakes are skewered, grilled, or deep-fried to perfection, and then coated in a gochujang-based spicy sauce. While the most popular and basic ingredient in the skewers is simply the rice cakes, you can also pair them with other ingredients such as tofu, fish cakes, vegetables, and cheese.
How is Tteokkochi made?
The first step in making Tteokkochi is to prepare the rice cakes by skewering them. I like to keep them as a whole and skewer them horizontally. However, for ease, you can also cut them into bite-sized pieces. If you're going to be using other vegetables or protein, then this is a better option.
Now there are versions that first coat the rice cakes with sauce and then fry them. But because I really like my skewers uber crisp (and I don't wanna burn the sauce by cooking for too long)., I recommend grilling or frying until golden brown first.
The fried rice cakes are then coated in a spicy sauce made from gochujang (a Korean chili paste), soy sauce, sugar, and other seasonings. The sauce can be adjusted to individual taste preferences, from mild to extremely spicy.
And the final step is to sprinkle some white sesame seeds and chopped green onions on top for added flavor and presentation! This whole thing comes together in under 15 minutes, no joke.
Are these Korean Rice Cake Skewers vegan-friendly?
Tteokkochi is one of those popular Korean recipes that is vegan by default. The most basic version will usually not call for any animal products. The skewered rice cakes can also be paired with a variety of vegan-friendly ingredients such as vegetables, tofu, and vegan cheese. The spicy sauce can also be made vegan by using a vegan-friendly gochujang and soy sauce. Additionally, Tteokkochi is a perfect snack option for those who follow a plant-based diet because it's filling and satisfying. The rice cakes provide a good source of carbohydrates, while the spicy sauce adds flavor and a kick of heat.
In case you're eating this dish from a street food vendor, we recommend checking with them on whether or not the sauces are plant-based. But as long as you make them at home, you can absolutely make them vegan!
Where can you find Tteokkochi?
Tteokkochi is a popular street food snack in Korea and can be found in many outdoor markets, street stalls, and food trucks. However, with the growing popularity of Korean cuisine around the world, you may also find Tteokkochi in Korean restaurants and food festivals in other countries.
Where can you find the frozen rice cakes used in this recipe?
For the best results, you need to buy the tteokbokki sticks (they're shaped like cylinders). You should be able to find them in the frozen section of your local Asian supermarket or grocery store.
In case you don't have access to it, then try ordering them online or making them from scratch!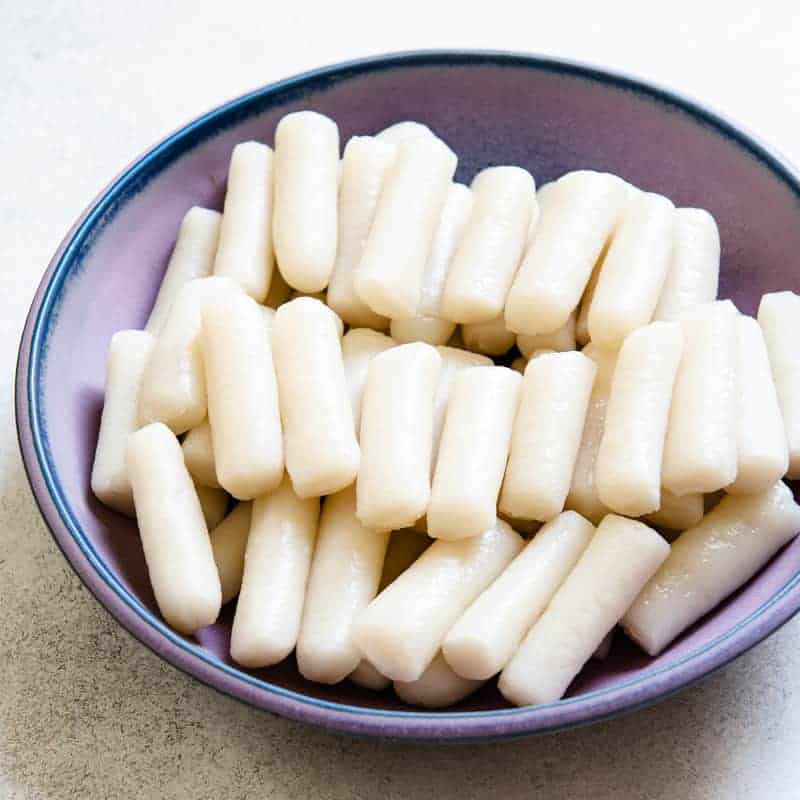 To sum it up, Tteokkochi is a delicious and vegan-friendly Korean street food dish that's worth trying. With its spicy and savory flavors and crispy texture, it's no wonder why it's becoming a popular snack option both in Korea and around the world – and also, one of my go-to snack foods.
Here is a video recipe on how to make tteokkochi:
Tteokkochi – Korean Street Food Skewers
If you're a fan of sweet, spicy, salty flavors, then look no further than this vegan Tteokkochi (Korean street food made with rice cakes).
Ingredients
20 cylinder-shaped rice cake (Tteok)
For the Sauce
1

tablespoons

gochujang (Korean chili paste)

2

teaspoons

soy sauce

2

teaspoons

sugar

1

teaspoon

rice vinegar

2

cloves

minced garlic

(or 1 tsp garlic powder)

2

tablespoons

water
Other Ingredients
1

tbsp

cooking oil

1

tablespoon

sesame oil

1/4

cup

chopped green onions

1

Tbsp

white sesame seeds for garnish
Wooden or Heat-Proof Skewers
Instructions
Prepping the frozen rice cakes
Soak the rice cakes in warm water for 3-4 minutes or boil for less than a minute and they'll soften right up. Toss in a little cooking oil so they don't stick.

Poke the rice cakes through the skewers. You can do one of the two ways:

Either poke the skewer through the length of the cylinder, such that the rice cakes are stacked horizontally.

Or

Cut the rice cake into bite-sized pieces and skewer them onto the bamboo skewers. Do about 3-4 per skewer.
Prepping the sauce
In a small saucepan, mix together the gochujang, soy sauce, sugar, rice vinegar, sesame oil, garlic, and water. Heat the mixture over medium heat, stirring occasionally, until it starts to boil. Then set aside.

If the mixture is too watery, you can thicken it: In a small bowl, whisk the cornstarch with 1 tablespoon of water to create a slurry. Add the slurry to the saucepan and continue stirring until the sauce thickens.
Making the tteokkochi
Grill or deep-fry the skewers until they are crispy and golden brown.

Brush the sauce over the skewered rice cakes, making sure they are evenly coated.

Garnish with chopped green onions and sesame seeds before serving.

Enjoy your delicious vegan Tteokkochi!
Video
Check out some other fun snacks from around the world –
Sev Puri – a classic Indian Chaat Dish
A popular vegan Indian street snack, Sev Puri is like a canape and made with puris (crispy discs) are topped with chutneys and garnishes.
Check out this recipe
Afghan Bolani
Bolani, also called Periki, is a stuffed flatbread from Afghanistan, with a thin crust, and filled with a bunch of different ingredients. Most common stuffing includes potatoes, green onion & cilantro!
Check out this recipe
Fresh Spring Rolls (Vietnamese Rice Paper Summer Rolls)
These Vegan Fresh Spring Rolls (Vietnamese Rice Paper Summer Rolls) are easy to assemble, and an amazing spring or summer snack option.
Check out this recipe